If anything, I'm being too harsh on the far-cleaner streets of Santo Domingo's slums.
By request:
"Not to change the subject, but could our esteemed host do a post concerning the Hepatitis A outbreak in San Diego?"
Okay.
File this under: Dealing With Other People's Sh*t. Literally.
A wise historian once said that the story of western civilization's progress boils down to the rise of sanitation, refuse removal, and achievement of running water and indoor plumbing.
And that the most frequent reason for near-area migration was literally a village/town/city moving far enough away to escape the smell and pest problems from their burgeoning trash heaps and dung hills.
Herein, living proof of concept.
San Diego (indeed, all of CA, esp. the coastal regions) is overrun by homeless waste-of-skin douchebags. Frisco's been dealing with the problem for decades, and they even publish poop-avoidance maps in Shitistan By The Bay for the feces-averse: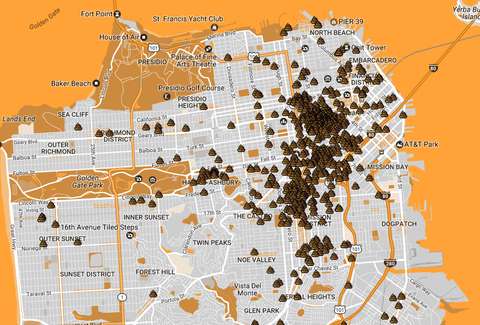 (I call it Frisco because it pisses the natives off.
Pissed on, pissed off, in for a penny, in for a pound...of feces.
Maybe Bay Area folks could change the name to San Franshitsco?)
Then, there's the perennial problem of drug addicts carelessly leaving their discards where anyone can get punctured by them. (So, where are all the "Legalize everything!" folks now...anyone? Beuller? Ferris Beuller...?) This helpfully adds
lifelong incurable
Hep B and C to the treatable Hepatitis A problem. Any large-"L" Libertarians in the audience? Tell me how you deal with near-zero government solutions to this problem. Or does this sort of thing fall inside the lines of Things It's Okay-to-beat-folks-into-submission-to? Just curious.
Pssst! Someone tell the Sierra Club and
EarthFirst! that junkies are polluting pigs.
When Antifa starts beating up homeless junkies,
I'm buying popcorn.
Rather than run them in for lawlessness, or run them out of town, city governments full of jackholes (San Diego city council, call your office...) let them shoot up, piss, and shit everywhere, which has real-world public health consequences.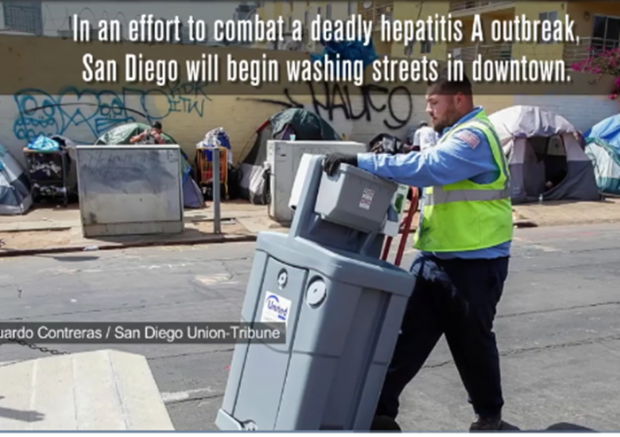 And Unintended Consequences Factor: Last November the
Usual Leftarded Jackholes
Reliable Demotard Voters in the coastal enclaves inflicted a ban on plastic bags as a free item, requiring retailers to begin charging customers
starting the next day
the princely sum of $0.10@ for every plastic bag everywhere, forever.
Which took a handy expedient crap receptacle out of the arsenal of the 17 homeless people who'd at least make the minimum effort. (Thanks, Governor Moonbeam!)
Thus, when shit and piss literally run down the streets and carpet the town from one end to the other, San Diego more resembles Santo Domingo. Or, the bottom of an outhouse sump.
Hepatitis A (invariably with a fecal-oral vector, meaning someone else's chocolate gets in your peanut butter) ensues. Unless you bleach your shoes after every foray outside your domicile, and surgically scrub your hands after removing them, or touching anything outside your safe space.
If you think it's funny, imagine you're eight or ten years old, and ride your bike past Joe the Wino's refrigerator-box castle, stop to fill you bike tire with air at the corner gas station where Mary MethFreak unloads whatever squirts out after she's salvaged half a burrito from behind Taco Bell or the rotten produce behind the QuickieMart, but poor eight year old you didn't wash your hands afterwards, and hastily consumed a chocolate and hepatitis-flavored candybar with your besplattered hands. Wait a day or three. Then ask mommy why your eyes are yellow where they should be white. Not nearly so funny now, is it
mijo
?
Or you walk from the car to the strip mall business door, not realizing that wasn't dew on the sidewalk or parking lot, but rather it was doodoo, and later on, took your (
no, that isn't mud wedged under the heel
) shoes off, and then pulled back the tab on a cold one. And now have N/V/D: nausea, vomiting, and diarrhea, along with fatigue, and looking a shade of yellow you don't recall ever looking before.
In 1980, this was all good fun.
This is not. Ever.
They're trying to vaccinate everyone in jails, but that's a tail-wagging solution to a rabid dog problem: it only stops the
inmates
from getting Hepatitis A (for awhile) not Average Joe. Or his kids.
Public defecation/urination should get an automatic non-negotiable hefty cash fine and non-time-reducible six-month chain-gang sentence for the first offense (No money for the fine? not a problem, Leaky Pants: you will work off the fine at the prevailing prison wage rate, at something like $0.30/hr,
after
doing the six months, on the same chain gang), with summer months being served in the hotter-than-hell desert section of East SD County, filling potholes and cracks with asphalt and hot tar from can-see to can't-see each day, six days a week. On Sundays, they can rest, in their tents, in the same desert.
Winter should be spent shoveling sand and mud hip-deep in the S.D. harbor when water temps run right around 50 degrees. If Navy SEALs can handle it, so can pubic crappers, as overwhelmingly most of them are the toothless, banjo-playing kinfolk from the Other 49 States, here for the sunshine and welfare bennies. If they elect to GTFO of California after the first such sentence, boo frickin' hoo.
Repeat offense should garner a longer sentence, and a third strike and all subsequent should be a felony, where the penal system can administer to them the basic toilet training mommy and daddy neglected.
If they're adjudicated too crazy for that, establish a lovely colony for them on San Miguel Island, some 35 miles off the CA coast, and currently inhabited solely by goats, and let us airdrop food bundles to them weekly, where they can pee and crap themselves wherever they choose, but their free-in-society privileges are permanently revoked on the second offense. (If someone wants to rename it Shutter or Devil's Island, I'm fine with that too.)
Live by society's most basic rules, or lose your right to roam around in it freely.
Someday, when I'm Emperor For A Day.