I blame the last 50 years of public education in this country.
(Cut all public schoolteachers salaries 75%, and tie future increases to SAT scores.)
Derp said: ...most every army vet knows what a 300 yard shot is and has been trained to make them and they are not easy to be accurate and this guy was shooting 400 yards with no training and nothing anchoring the gun to keep it within a range from broken out windows ?
imo, even that packed crowd didn't look to big from 400 yards. if he really had no training, there'd be bullets all over that area, not just hitting the crowd.
something aint right.
To Whomever It May Concern:
Stevie Fucking Wonder could have made the shots in this case, with an AR which had its sights adjusted with a claw hammer.
Anyone who keeps derping otherwise is just spanking their naked ass with a wooden paddle and announcing what a fucktard they are in front of God and everyone. If anything, I owe an apology to the derp-tarded from lumping you in with them.
From Paddock's suite to the near corner of the festival at ground level was 320yds; the far corner at ground level was 511 yds. That's straight slant line, figuring his height above ground as well as the flat line distance from the corner of the Mandalay Bay to the concert festival area.
He wasn't trying to hit a target paper bullseye at those ranges, he was trying to hit
anywhere
inside the assembled crowd.
Playing with GoogleEarth basic mode gives us the size of the ground-level area between the bleacher VIP seating, from the concert stage to the light poles is 50 yds wide by nearly 300 feet deep.
That's a football field, FFS.
All the way to the deepest area there is double the length, and the same width: a football field wide, and two in length. For those who only passed middle school Common Core math by taking off their shoes, that's
over two mother**king acres
.
And I'm not even counting the packed bleacher area, just the infield.
If we add the bleachers in too, it's twice as wide, or 4 acres of humanity.
With 20,000 or so people there.
Playing with the
Federal Ballistics Calculator
, and assuming shitty, lightweight XM-193 whitebox .223 ammo for maximum unreliability and worst sensitivity to wind, and throwing in a 50MPH crosswind (no way in hell there were 50MPH winds in Vegas that night, but I'm trying to rule out the monumental bag-of-hammers stupid fucktardery it takes to even ask this question), the bullet drop would be 25″ at the nearest corner, to 60″ at the deepest corner, and the wind-induced error would be 51″ at the near corner to 162″ at the deepest corner.
So if whatever fucktard shooting had let Ray Charles put his EOTech on, never zeroed it, and used a pipe wrench and rocks to adjust it, and he just aimed at the middle of a mass of 20,000 people, on bump-fire bursts, his CEP would be 10′ high and 30′ wide at the farthest range of engagement.
While shooting an
area target
of bystanders in the open that measured
150′ to 300′ wide by 600′ long
. This is roughly as difficult as standing at ground level at the concert site, and shooting at the
entire fucking wall of glass of the Mandalay Bay Hotel Tower
and trying to hit it anywhere in the top half of a 43-story building that's over 500 feet from one end to the other.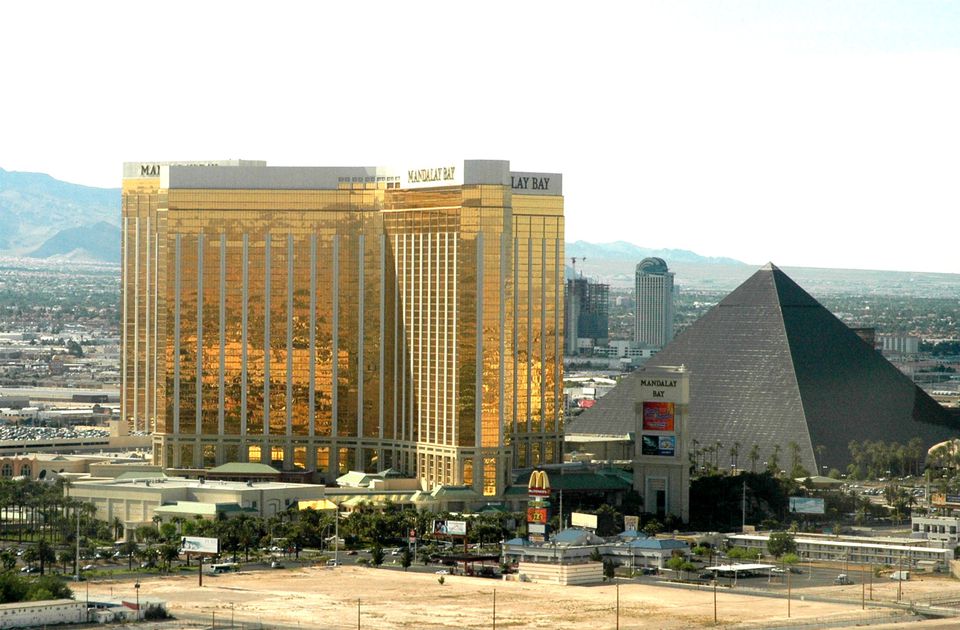 It would be harder to miss a barn while shooting from inside it than to miss hitting that crowd.
Jeezus Fucking Christ on a pogo stick, people, if anyone whose primary language is English can't see what an easy marksmanship problem this is, get a crowbar and sledge hammer, and see if you can, with diligent application of both, pull your fucking head out of your ass. If necessary, ask a friend or neighbor for help.
And he only got 197 hits out of a crowd of 22,000, so his batting average was an abysmal .009, which is not even 1%.
Anybody who bats like he shot is referred to in any baseball league down to T-ball as the hot dog vendor, and in most states, their driver's license would be a white-tipped cane and a bus pass.
If you think hitting a target the size of the WWII aircraft carrier
Lexington
from 300-500 yards is
hard
with any rifle that actually has rifling, made any time since about 1860, the wonder is that you can manage to breathe without special glasses with the words "INHALE" and "EXHALE" etched on the lenses.
If that describes you in any way, please, put down the bong, and back away from the keyboard before you hurt yourself.