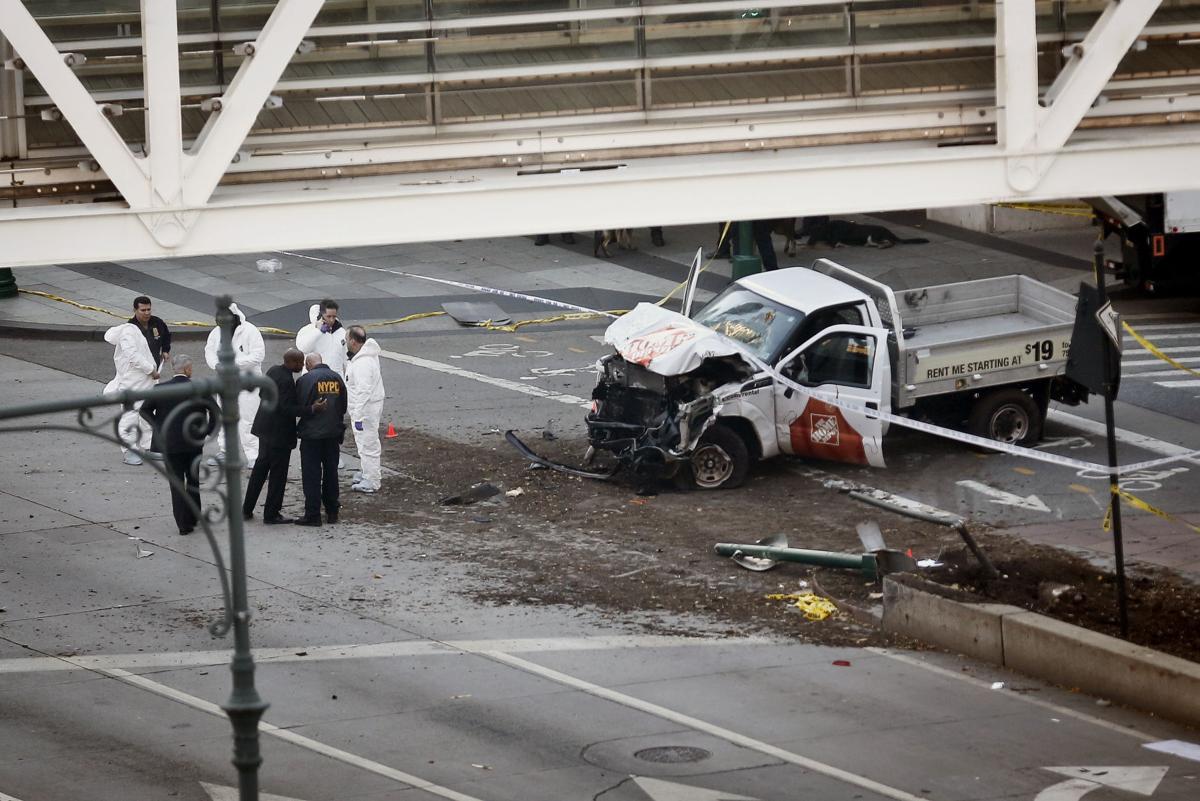 1) No one - NO ONE - on 157 cable news channels or programs has asked "WTF were those @$$hole lunatic judges in the Ninth Circus Court doing by blocking Pres. Trump's travel ban and plans to vet jihadi immigrants more carefully??" (No it's not a conspiracy; you don't need one when they're just all exactly that stupid.)
2) Not Chuck U Schumer, Cryptkeeper Feinswine, nor Babbling Nancy Pelosi, will come out advocating restrictions on trucks, or closing the Home Depot truck rental loophole. Nor for cracking down on jihadi immigration.
3) The TSA will not stop groping blonde five year old children and 90-year-old Swedish nuns, and switch to doing cavity searches 100% on everyone named Mohammed, or from Dirkadirkastan, nor both.
4) Not one single Muslim from Maui to Maine will condemn this attack. Especially not jihadi apologists like CAIR, and the other terrorism enabling Usual Suspects. Because they don't want their own heads cut off by another "moderate" Muslim next door.
5) Barack Fuckyoucrackerracists Obozo will not issue a peep about this, unless it's to condemn the horrible driving conditions which caused poor DirkaDirka to swerve out of control and drive along a bike path until enough brave New Yorkers threw themselves under his wheels to stop his runaway vehicle.
6) Bill Maher will not apologize for the title of his book, "If You Drive Alone, You Drive With Bin Laden" being eerily prescient for the last five years, nor for shilling for more terrorism, and less crackdown since forever, unless it's on the guns of people who didn't do it.
Ordinary people will, however, do one of two things:
1) They will either decide it's better and more noble to die rather than crack down on this endless ongoing horseshit, or
2) They will decide "I'll see your jihad, and raise you one crusade. We start bombing in 5 minutes."
There is no third option.
Islam is incompatible with Western democracy. You can believe the Diversity Bandwagon, or just believe your lying eyes from every spot they foul around the world.
99.something percent of rapes in Scandinavia - Norway, Sweden, Denmark - are perpetrated by Muslim invaders there.
They've burned London and Paris, several times apiece. (Reference what we did, collectively, when the Nazis did this. I'll wait.)
Nearly every current war in the world is traceable to either Muslims vs. other Muslims, or Muslims vs. Anyone Else, because they don't work and play well with others, and haven't since 610 AD.
Proof of the frog-in-a-frying-pan theory is that if this truck attack had taken place on the 9/11 anniversary, let alone on 9/12/2001, New Yorkers would have rounded up every Muslim in the Five Borough by hand, and deported them bodily into the Hudson River, with transmissions and engine blocks tied to them to help kickstart their auto repair businesses back in Dirkadirkastan. And the fires from burning mosques in the city would be visible from space, and keeping homeless people warm for days. Because NYFC residents are givers like that.
Instead, they're wringing their hands, cowering in fear, and listening to DeBlovio burp out platitudes. Instead of going all Tony Soprano, and taking care of business.
You had WTC I, WTC II, and now this. Three strikes and you're out, boys and girls.
The D.C. Snipers, Ft. Hood, Orlando, San Bernardino, Nashville, Boston, and NYFC three goddam times. Shall we wait for four, or fourteen, just to be absolutely sure???
And those are just the bigger incidents, we're not even talking about the onsie-twosie incidents. Let me know when the penny drops.
(I know the "fool me once, fool me twice..." aphorism. How does it go after 27 or 57 times...?)
If you're in a cage with a hungry tiger, you either get a gun, or you crawl into his food bowl.
Yippee Ki Yay, m*****f*****s.
It's time to put Islam into the same box as Carthage after the Third Punic War.
For the historically curious, look up the results of the Fourth Punic War.
QED
"Ceterum autem censeo Islam esse delendam." - Cicero Americanus
If you're not about that, don't bother me. You're not a serious person, you're a silly person.
On your own head be the consequences of that folly.