I'm not going to link to the 12,000 articles and breaking news headlines.
School? Check.
Deranged sociopath? Check.
Registered Democrat? Check. (But I repeat myself.)
Troubled history, known to be a hazard to life and limb? Check?
Looking to be famous by shooting his way onto the news? Check.
Repaid in spades by the orgiastic news coverage nationwide? Check.
Bad guy with gun stopped by good guy(s) with gun? Check.
Leftards dancing in the still-warm blood of the victims, and carping about getting the gun control they've tried and failed at a dozen or a hundred times? Check.
You can fill the rest in yourself in a day or two. Or take a shot now, and be 90% right without even looking.
We don't have a gun problem in this country.
We have a criminal problem, a psych patient problem, a dumbass media problem, and a problem with the Special Snowflakes afraid to admit that guns are a useful tool, sometimes life-and-death useful. Notably, in every case that one of these gun-toting wannabe celebutards shows up, what makes them stop RFN is when someone armed starts delivering return fire. Pity the dead football coach/security guard hero couldn't do that, instead of just donating his body as a handy bullet sponge, but that's what the hoplophobic educational Leftards want to happen.
Evidently it was better that he follow the rules every day, and die, rather than break them every day and carry concealed anyways, and risk losing his job, saving countless lives, and living to tell the tale afterwards. This is the calculus of moral cowardice and stupidity, in a Darwin Award-winning fashion.
Show of hands: who thinks it's better that the coach is dead, and the shooter will live for 70 years in state prison, instead of the other way around?
But as long as the one place anyone bent on psychopathic homicide can count on being just about the only one around with a gun is schools, schools will be were most of the shootings are. About two times a week in the past three years. And for the media pathological liars, this is the second mass shooting this year, not the 18th. Media douchebag fabulism strikes early, every time this happens. They can't help themselves, yet another form of sociopathy.
And more kids get slaughtered every year on the 1990s-era decision to make them sacrificial lambs on campus, in perpetuity.
Another great reason to home school, if you didn't have 300 others already.
This is "settled science, yet the experiment continues, and kids are the lab rats.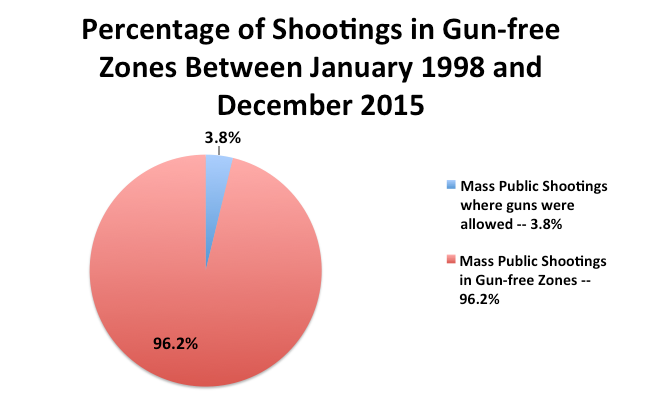 Pray for the families, and get your kids the hell out of the "X" ring.