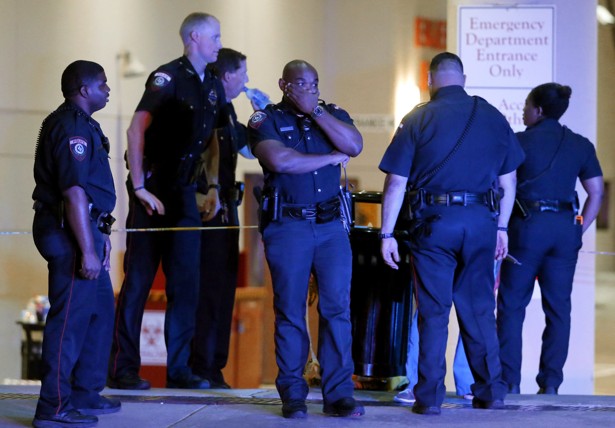 Now that things have started to settle down, let's give this a once-over based on updated information.
New Realities:
The shooter:
Infuriatingly for the media and the other leftist Usual Suspects, the shooter wasn't a white angry male, nor armed with the dreaded AR-15 series. Boo frickin' hoo. He was a black angry male. (And you'll see neither his name nor face mentioned herein, nor ever.) He was a one-man assault force. He pinned down 20-50x as many officers for hours, had them convinced they were dealing with a team of guys, and chasing their tails and imaginary suspects. He killed, so far, 5x his weight in police officers, and held off an entire urban SWAT team, to the point that TPTB elected to blow him up rather than risk more officers. And his weapon was nothing more ferocious than a humble semi-auto SKS (updated-A.) AK, probably with Russian surplus steel-core ammo, and simple optics. 1947 Russian technology sez "Hi".
A couple years back, I met Chris Hernandez (bloglist, right) in person, and one of my humble non-LEO observations on active shooter protocols was that eventually, bad guys, singly or in groups, were going to be expecting the whole "swarm 'em immediately" tactic, and eat the PD's lunch. Chris, both a military veteran of multiple recent deployments, and a serving police officer "somewhere in Texas" with tactical response experience, wasn't so sure that would happen, or make much difference.
Today I won that hunch, and it's going to cost DPD several funerals, and years of soul-searching. Every SWAT team in the country just got pwned Thursday night, and like Columbine, this incident is going to dictate a re-evaluation of everyone's future doctrine and tactics. And if you think the ISIS-holes aren't lapping this incident up, and filling notebooks with their own analysis, I've got a bridge to sell you, for cheap.
The only thing the left and DHS' crystal-ball gazers can salvage out of this is the knowledge that if you paint someone into a corner, even a humble military reservist with one whole SWAsia deployment under his belt, a rifle, and the will, can indeed be a formidable potential terrorist threat, and proved in the event to be more than a match for the forces of law and order for as many hours as one stays alive and on the loose.
Had he been possessed of better tactical planning (apparently pulling this whole incident out of his @$$ on the fly) and escaped, however briefly, he'd have been leading the entire state of Texas on the biggest ghost hunt in history, exactly as Dorner did in CA, and without helpfully painting them a trail right back to himself in advance.
This is also bad news for Team Oppression, when they contemplate that there are 300 million guns in circulation nationwide at last rough SWAG, and some number of millions of veterans in the country, many with multiple combat tours, minimal tactical training, or both, and a significant number pissed off to the gills about the last 8-40 years' worth of Leftism on a rampage, and any number of other causes.
That fact alone both undoes any hope of "gun control", and should have fecal matter running down the legs of everyone with a badge and the desire to go all King George/"just following orders" for the next 50 years, at least. For them, shit just got real.
The cops:
Just as in the celebrated North Hollywood Bank Shootout, the cops in Dallas, to their eternal credit, ran towards the gunfire, like they do, and interposed themselves between an active shooter and innocent victims, despite in most instances being outgunned with just their sidearms vs. a rudimentary long weapon. Bravery 10, tactical acumen 2, if you're keeping score, also just like North Hollywood. And with similar body counts in both instances. The officer who blundered up on the shooter, then was single-handedly outflanked, surrounded, and then executed by multiple rounds to the back and body after he fell was the clearest example that being braver than you are smart is a short-term recipe for dying gloriously, but quickly, and permanently. Life is not a FPS game with "respawn".
Their SWAT team, despite being held at a standoff, at least had the wit on the fly to change the rules of engagement, drop Marquis of Queensbury Rules, and elect to blow this adversary up with a bomb robot ("C4-PO" per Arf.com. Hillarious!-A.), correctly determining that deadly force=deadly force, and that after 12 of their guys and two civilians were already down, attempting an arrest was futile, and that there's more than one way to skin that cat. It turns out that most problems in life can, indeed, be solved by a suitable application of high explosives. Kudos.
My condolences for the PD's losses, and a hearty thumbs up for taking out their opponent any way they could get the job done, and with no additional casualties. Just like with Flight 93, you get about an hour in America to turn the tables on folks; after that, the means may change, but the outcome isn't in doubt once you, the bad guy(s), have been fixed, outnumbered, and surrounded.
On the other side of the equation, this guy had a grievance. One that law enforcement in general has ignored, and would have continued to, right up until Thursday evening. After squirting the effluvia of a macho burrito on the whole Black Lives Matter bs'ers myself, the reality is that there's a serious, long-unappreciated, and finally acknowledged truth afoot in the black community: the average black person justifiably is afraid of being executed by Any Police Officer for any interaction whatsoever, and for cause.
And after last week, the fear of being gunned down for nothing now applies to Team Blue.
It was a long time in coming, and it took getting a dozen of their peeps gunned down in cold blood to get their attention. A preliminary listen to responses in the aftermath of the shootout shows it may finally have begun to swing the pendulum the other way.
An over-militarized, authoritarian, "respect mah authoritay" gene has run rampant in law enforcement in this country since the 1960s. And it isn't "a few bad apples", nor is it every swinging Richard on every force. The truth lies between those extremes, but the official institutionalized Team Blue attitude leads to the conclusion that qui tacet consentire videtur has been policy from coast to coast, with thousands of officers deciding they are cops first, and citizens second, and covering for, or even defending, in word and deed indefensible and egregious over-reaches by their brethren - to the point that nothing but paying in blood gets their attention. As Officer John McClane once said famously. "Welcome to the party, asshole!"
When an entire occupational field - law enforcement - has reached, exactly like Islam, the point that only either being killed wholesale, or learning to call out and deliver the heads on platters of your own murderous offenders from within your midst will suffice to expunge your guilt in the public's eyes, as it has with American law enforcement for decades, you've fucked the pooch so hard the ASPCA should have had you arrested long ago. And we've now reached the threshold that people are going to start treating them, wholesale, randomly, exactly like jihadis, when they get the chance.
If that doesn't institute a sea change in Team Blue, leading to a deep and profound reversal of course, and a return to Peel's Principles rather than Machiavellian politics as usual, the body count from here on out is entirely justifiable, and I'll be rooting more for the shooters than the law enforcers, despite the near-term consequences to civilization, and so will millions of ordinary Americans.
If you wear a badge, LEARN. THAT. LESSON.
Think it over long and hard, and make some serious changes, right damn snappy.
Else, go to war with the American people and Constitution, and ask history how that's going to end for you over time.
Fix the problem, or settle your affairs.
The Black Community
During, by all accounts, an entirely peaceful protest otherwise, the march in Dallas accomplished precisely nothing of note. Right up until one lone gunman, a couple of blocks from Dealey Plaza, where JFK was un-elected with some finality, highjacked their march, and made a point that hundreds of protests, both non-violent and violent, hadn't made since at least Rodney King's time.
The bitter pill for everyone to swallow is that damnable as the highjacking of the event was, it probably accomplished more in 30 minutes than peaceful protests had in 40 years. Everyone is simply going to have to digest that, and deal with it. I neither call for nor applaud this, but I acknowledge its reality.
The black community, and individual members, are finally getting heard on their justified concerns. And, hopefully, they'll start to pay attention themselves to the reasons why no one's been listening until now. The list of reasons no one cared has been 1% their skin color being different, and 99% the myriad ways they sabotaged and continue to, their own agenda.
The way not to squander this abrupt crack in the door, and gaining the attention of both The Man, and the rest of America, is to fix the things they can:
Stop sticking up for the guilty-as-hell Dindu Nuffins, who get shot while fucking up by the numbers.
If Black Lives Matter to you for real, rather than for rent, stop ignoring that 98% of black crime and deaths are perpetrated on your community by your community, and not by The Man. (Unless, by The Man, you mean the calculated indifference of Rahm Emmanuel, the black mayors of DC and Detroit, and President For Life HopeyDopey the First, hisownself.)
While no one is advocating for police mistreatment, even Chris Rock has pointed out that you're a lot less likely to get shot, or get a PR-24 Shampoo, if, when interacting with law enforcement officials, you don't act like an oppressed, entitled jackass of biblical proportions, and probably thence deserve everything that happens afterwards.
The Civil War ended in 1865. Slavery ended with the 13th, 14th, and 15th amendments in the 1860s-1870s. Civil Rights was instituted in the mid-1960s. So unless you wore slave chains, and picked cotton yourselves, STFU about your imaginary (for the last 50 years, minimum) allegations of widespread institutionalized racism. Do that, and we'll gladly hear you out about actual injustice perpetrated last year or 15 seconds ago. Swear to God, hand to my heart. The rest of us neither want nor tolerate that shit either.
Act like fellow citizens, instead of aggrieved, entitled @$$clowns, and you'll be treated like the former and not the latter. Just like everyone else in this country, including every wave of immigrants going back multiple centuries, is.
So either get in, or get out. You want to start yapping about how your great-great-grandparents got brought here instead of coming freely to Ellis Island, there's a solution to your whine, and it's no farther away than the ticket desk of Air Africa. You don't like it here, and can't parse out how to behave day in and day out forever, GTFO, and go live in Liberia. I hear the Ebola there is lovely this time of year.
Learn those lessons, take them to heart.
The Government PTB:
Are you kidding me? Those @$$clowns never learn anything from anything, and never have, so I'm not even going to waste the electrons to discuss the myriad ways they'll fuck this up, from HopeyDopey on down to the lowliest TSA minion, nor note the hundreds of thousands of ways they'll work, by indifference to actual malign design, to make things worse, starting with "never let a crisis go to waste."
If fucking up by the numbers were an Olympic event, the government would long ago have won the Lifetime Achievement Award in perpetuity.
The real aftermath can work out for good, if the people most directly affected choose to learn from the whole thing. It could actually serve to start turning the ship around on some decades-long major problems that have been driving this country to the brink, going back to the occasion of the last noteworthy shooting in downtown Dallas.
But if people behave stupidly, as they have universally until this point, the entire sorry spectacle will serve solely as a how-to manual for what the next 100 incidents will look like, and serve simply as a Harbinger of Ultimate Doom for the republic, as we collectively lurch and stumble towards our ultimate destruction.
Looking at the parties we need intelligence and wisdom from, I'm far from sanguine about the eventual outcome, but the opportunity for positive change is not imaginary.
And if it fails to materialize, wherever and whoever you are, you don't have enough ammunition. Pray for the best, but prepare for the worst.
UPDATE from 2018: DPD SWAT no-billed for blowing away cop killer with C4.